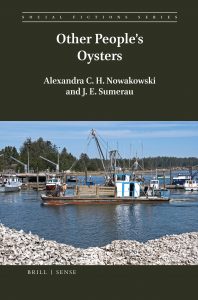 Other People's Oysters (with Alexandra C.H. Nowakowski)
There may be no more famous form of seafood than an Apalachicola oyster. People travel from all over the world for the chance to try out these oysters and gush over just how large, flavorful, and unique they are in comparison to other foods. In Other People's Oysters, however, Apalachicola oysters are not merely internationally known delicacies bringing money and recognition to the bay – they are the center of family ties, a symbol of a disappearing way of life, and the catalyst for a social movement that rocks the nation. Tripp and Jessica Rendell have lived on Richards Island in the Apalachicola Bay harvesting, selling, and cooking oysters for decades. During this time, their children – Carina, Bobby, and Roy Lee – grew up to take over the harvesting business (Carina), take over the family restaurant (Bobby) and run off into the wider world to become a lawyer and political activist (Roy Lee). Through the eyes of Carina, we watch life and work change throughout the bay throughout these decades, and witness the ways corporate, environmental and political policy focused more on wealth than the lives of the people and the conservation of the bay led to increasing poverty, decreasing oyster production, and the ongoing destruction of the bay. But when her latest series of law suits seeking aid and reparation stall in the courts, Roy Lee moves back home and forms a plan for taking back the bay, raising up the people, and fighting for the Rendells' way of life. Other People's Oysters may be read entirely for pleasure and used in courses focused on social movements, families, class dynamics, politics, environmentalism, mental diversity, sexualities, gender, rural and small town cultures, intersectionality or the American southeast.
——————————————————————————————————————————————-
That Year
2017; available for purchase here for $2.99 ebook (free on Kindle Unlimited) or $5.99 paper
What does the world look like through non-binary eyes? What does it feel like to start over in a city after being raised in a small southern town? What does it feel like the first time someone finds affirmation and embrace in a community? In That Year, we follow Collings as, with the help of a supportive grandmother and grams' special friend, they navigate each of these questions in Tampa, Florida. Told from Collings perspective, we walk with them as they navigate emerging adulthood, cisgender norms and assumptions, and their first experiences living openly as a non-binary, pansexual young adult.
——————————————————————————————————————————————-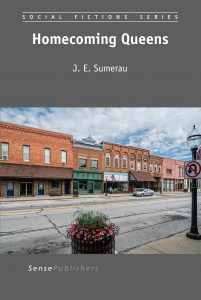 Homecoming Queens
"It's hard for me to keep a straight face at the thought of living in a place called Queens with my husband and former homecoming queen wife," Jackson thinks when his spouses inform him of their desire to move back to their hometown following the death of a parent. In Homecoming Queens, this decision sets in motion events that will dramatically transform the three spouses, their understanding of the past, and the town itself. As Jackson Garner leaves Tampa, he introduces us to Queens, a small town in Georgia situated between Atlanta and Augusta. In Queens, Jackson, Crystal and Lee encounter supportive regulars at the diner they take over from Crystal's father as well as hostile locals who find bisexuality, polyamory, and other "alternative" lifestyles unsavory. They also confront the traumatic event that led Crystal and Lee to leave town after high school. Along the way, they face the history and ghosts of the town, the tension between an LGBT friendly pastor and some of his anti-LGBT congregants, the struggles of a kid seeking gender transition, and the ongoing battle between progress and tradition in the American south. Homecoming Queens can be read purely for pleasure or used as supplemental reading for courses in sexualities, gender, relationships, sociology, families, religion, the life course, the American south, identities, culture, intersectionality, and arts-based research.
——————————————————————————————————————————————-
Essence
2017; available for purchase here for $2.99 ebook (free on Kindle Unlimited) or $5.99 paper
Dating, relationships, and intimacy can be difficult enough waters to navigate for twenty-somethings with limited experience, knowledge and financial means. These experiences can become even more complicated for Queer people in southern small towns. In Essence, we meet and follow Brandon and Willa – two bisexual companions in their early twenties who at times are more than friends – as they seek to figure out what they mean to each other, intimate experiences with others, and their first encounters with poly relationships, non-binary people, intersex people, asexual people, and the complexities of falling in love.
——————————————————————————————————————————————-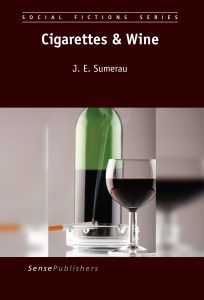 Cigarettes & Wine
Imagine the terror and exhilaration of a first sexual experience in a church where you could be caught at any moment.
In Cigarettes & Wine, this is where we meet an unnamed teenage narrator in a small southern town trying to make sense of their own bisexuality, gender variance, and emerging adulthood. When our narrator leaves the church, we watch their teen years unfold alongside one first love wrestling with his own sexuality and his desire for a relationship with God, and another first love seeking to find herself as she moves away from town. Through the narrator's eyes, we also encounter a newly arrived neighbor who appears to be an all American boy, but has secrets and pain hidden behind his charming smile and athletic ability, and their oldest friend who is on the verge of romantic, artistic, and sexual transformations of her own. Along the way, these friends confront questions about gender and sexuality, violence and substance abuse, and the intricacies of love and selfhood in the shadow of churches, families, and a small southern town in the 1990's. Cigarettes & Wine can be read purely for pleasure or used as supplemental reading in a variety of courses in sexualities, gender, relationships, families, religion, the life course, narratives, the American south, identities, culture, intersectionality, and arts-based research.