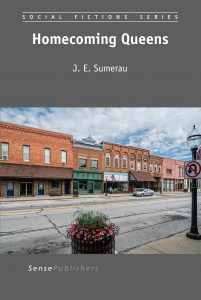 Homecoming Queens 
by J.E. Sumerau
Number 26 in the Social Fictions Series
"It's hard for me to keep a straight face at the thought of living in a place called Queens with my husband and former homecoming queen wife," Jackson thinks when his spouses inform him of their desire to move back to their hometown following the death of a parent. In Homecoming Queens, this decision sets in motion events that will dramatically transform the three spouses, their understanding of the past, and the town itself. As Jackson Garner leaves Tampa, he introduces us to Queens, a small town in Georgia situated between Atlanta and Augusta. In Queens, Jackson, Crystal and Lee encounter supportive regulars at the diner they take over from Crystal's father as well as hostile locals who find bisexuality, polyamory, and other "alternative" lifestyles unsavory. They also confront the traumatic event that led Crystal and Lee to leave town after high school. Along the way, they face the history and ghosts of the town, the tension between an LGBT friendly pastor and some of his anti-LGBT congregants, the struggles of a kid seeking gender transition, and the ongoing battle between progress and tradition in the American south. Homecoming Queens can be read purely for pleasure or used as supplemental reading for courses in sexualities, gender, relationships, sociology, families, religion, the life course, the American south, identities, culture, intersectionality, and arts-based research.
Sample Endorsements:
Homecoming Queens is a fascinating window onto rural queer life. Through the experiences of the novel's protagonist, Jackson, a bisexual, polyamorous man who leaves Tampa to support his spouses in moving back to their hometown in rural Georgia to run a family business, Sumerau addresses complex issues related to identities, families, and relationships among people across a diverse range of gender identifications and sexual and relationship orientations. Grounded in extensive ethnographic research on religion, gender, and sexuality in the American South, Homecoming Queens presents an intimate, compelling depiction of how polyamorous people live and love.  Brandy Simula, Ph.D., Emory University.
J.E. Sumerau is an incredibly gifted writer.  By the end of Homecoming Queens, I felt as though I personally knew Jackson, Crystal, and Lee (the three main characters) because Sumerau wrote them in such a way that they seem unique (as bisexual poly folks) but like every other human in their emotions and desires.  Homecoming Queens educates you about being queer, trans, and poly in the South while also entertaining you with a captivating story from start to finish.  Seriously, this story should be turned into a play or movie – or both!  Eric Anthony Grollman, Ph.D., University of Richmond and Editor of Conditionallyaccepted.com.
Homecoming Queens immediately draws you into the lives of characters that are faced with decisions to make as both individuals and as part of a committed union. The past, present, and future come together to set in motion a page-turning story about what it means to go home and the homes and families people build along the way as they build lives that defy gender and sexuality binaries.  The characters offer a down-to-earth and insightful perspective on the multiplicity of gender and sexual identities through their relationships and interactions with one another, especially that of bisexuality and polyamory, often not centrally situated in academic or fictional writing.  Homecoming Queens shows that while the past may sometimes reverberate into our present, it does not necessarily have to define our present or the futures we seek.  This book will keep you guessing and wondering long after you've read it.  Lorena Garcia, Ph.D., University of Illinois Chicago and author of Respect Yourself, Protect Yourself: Latina Girls and Sexual Identity. 
Homecoming Queens is an intertwined, genuine, and hilarious story about love, compromise, and what it means to be unknowing-but willing-to follow love to wherever our loves can convince us to go. Sumerau is (somehow) brilliantly able to capture what it means to be trying for multiple people, while figuring out ourselves. Undoubtedly, this novel broadens our ideas about relationships, identity, and companionship, making us question our own boundaries and what we'd be willing to put on the line for the people we care for the most. In return, we start to recognize all of the ways in which others do the same for us. Heartfelt, genuine and just straight up fun, Homecoming Queens certainly, and deservedly so, takes the crown!  Brittany Harder, Ph.D., University of Tampa. 
Witty, action-packed, and full of surprises, Sumerau's Homecoming Queens will speak to anyone who has ever tried to go home again. In a web of local color and southern charm, Homecoming Queens transports us from queer-friendly Tampa, Florida to the small, conservative town of Queens, Georgia – hometown to two of three spouses in a polyamorous relationship. Sumerau's novel is an eye-opening read that sheds light on the dynamics of polyamory and queer presence in the Deep South. Secrets and mysteries intertwine with friendships new and old as the three spouses navigate Queens as sexually non-conforming adults. When the past meets the present, rumors collide with truth and all hell breaks loose, but will Queens and her newest poly residents survive?  Katie Acosta, Ph.D., Georgia State University and author of Amigas y Amantes: Sexually Nonconforming Latinas Negotiate Family.
Free Sample here